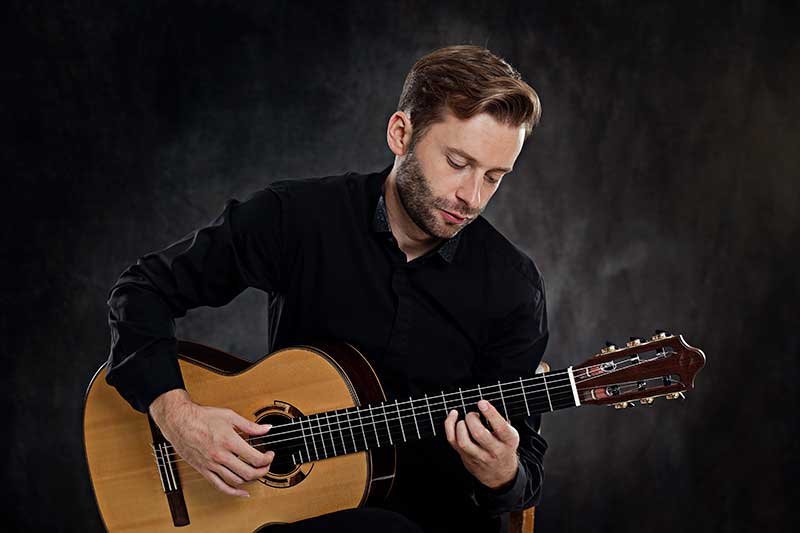 Praised by the critics as a "master of breathing and vocal line on the guitar" (Pizzicato Magazine) and "a young guitarist with great future" (Melomano Digital, Madrid) Jerzy Chwastyk "cultivates a sensitive and poetic playing without any showmanship. He always puts his art at the service of music" (guitar acoustic magazine, Germany).
Thanks to his elegant and lyrical way of playing, he achieved successes at numerous competitions: in 2017 he won awards at Concurso Sigall in Chile and at Concurso Fernando Sor in Madrid. He also received the second prize at the 'Andrés Segovia' competition in Linares in 2016 and was a prizewinner at the 'Andrés Segovia' 2010 competition in La Herradura.
His debut CD – 'La Joia' of 2017 – which includes compositions from Schubert/Merz to Joaquin Rodrigo, shows Jerzy Chwastyk as an exceptional interpreter of the young generation which aims at making the guitar and its varied repertoire shine in a new brilliance.
His second album "Romance – Canciones y danzas" recorded with the violinist Tjaša Kastelic achieved great success and with Europe Promotion Tour attracted big attention by the public. With the pieces by de Falla, Bartók, Piazzolla, Debussy and Faurè "They carry the listener away into a world of enchanting sounds" wrote Pizzicato Magazine.
Jerzy Chwastyk took first steps in guitar playing as a self-taught musician and started to take professional lessons at the age of 12. In 2006 his guitar studies took him to Weimar, where he attended a master course taught by Prof. Monika Rost and Prof. Tomasz Zawierucha, and to Berlin, where he took up master studies under the supervision of Thomas Müller-Pering. He was granted a scholarship by the Neue Liszt Stiftung foundation. He also participated in numerous international master courses run, among others, by Leo Brouwer, Zoran Dukic or Roberto Aussel. Apart from obtaining a diploma and a Master's degree he also passed a concert exam in 2015.
Jerzy Chwastyk gives concerts as a soloist and chamber musician in the whole Europe. Recently, in the Ocaña production by Neuköllner Opera in Berlin, this classically educated guitarist proved his versatility and flexibility in performing a wide range of musical genres.