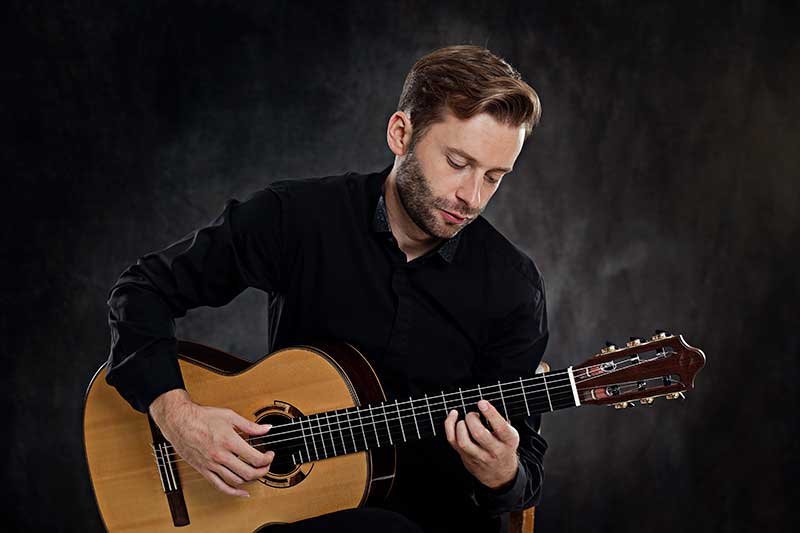 'A Master of breathing and vocal line on the guitar' – this is how the playing of the Polish musician Jerzy Chwastyk was described by the Pizzicato magazine.
Jerzy Chwastyk's extensive repertoire ranges from traditional and classical guitar music to innovative projects and unusual duets with other artists.
These include collaborations with the Neuköllner Oper, the actor Hanns Zischler, the bandoneonist Omar Massa and the cellists Susanne Szambelan and Maciej Kułakowski.
This versatility is also evidenced by his two highly acclaimed solo CDs: La Joia (2017) and Iberian Soundscapes (2020), "dichter.liebe" (Prospero Classical) with Hanns Zischler and Susanne Szambelan and the CD Romance – Canciones y danzas (2019), which he recorded with the violinist Tjaša Kastelic.
On the album "dichter.liebe" recorded in 2022 with Susanne Szambelan and Hanns Zischler, he also appeared as an arranger of songs by Robert Schumann – the first transcription of the well-known cycle was praised by critics as an "absolutely monumental and poignant" work. (Radio France)
Prize winner of many renowned competitions (Concurso Sigall/ Chile, Concurso Fernando Sor/Madrid und Concurso Segovia in Linares and in La Herradura) studied in Weimar, where he attended a master course taught by Prof. Monika Rost and Prof. Tomasz Zawierucha, and in Berlin, where he took up master studies under the supervision of Thomas Müller-Pering. He also participated in numerous international master courses run, among others, by Zoran Dukic or Roberto Aussel. Apart from obtaining a diploma and a Master's degree he also passed a concert exam in 2015.
Jerzy Chwastyk gives concerts as a soloist and chamber musician in the whole Europe.